Call now to reserve your spot. Availability is limited!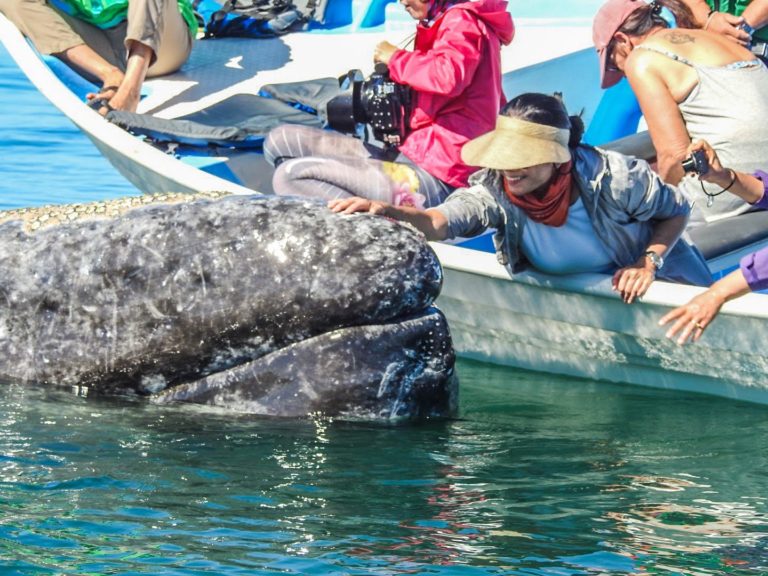 We will be returning to Baja to explore this beautiful country and interact with the magnificent California Gray Whales. This is an incredible experience. Imagine being able to touch and pet these giant mammals that swim right up to the boat. We will travel out to the lagoon where the calves are born and observe the mothers and babies from a panga boat, an amazing experience. We will also visit missions and explore beautiful beaches, enjoy four group meals (included) and a guided, escorted trip to San Javier Mission near Loreto. This caravan drives at a leisurely pace and makes frequent rest stops. The group is limited to eight RV's, so not to overwhelm the local services.
February 17: We will gather at the Desert Trails RV Resort in El Centro, where we will introduce ourselves and discuss driving and safety matters.
February 18: We will cross the border into Mexico at the Mexicali Port of Entry (POE) and travel south to San Felipe where we will make a brief stop for fuel and groceries. Our first night in Mexico will be on the shore of the Sear of Cortez in Puertecitos at Octavio's Camp. Dry Camping.
February 19: On to Guerrero Negro and Malarrimos RV. That evening, we will enjoy a group meal at the onsite restaurant.
February 20: Whale watching. We will be transported from Malarrimos out to Ojo de Liebre Lagoon and load up in a panga boat and go enjoy the Gray Whales. This is approximately 4 – 5 hours in length.
February 21: Traveling south, we'll stop in San Ignacio for lunch and visit the beautiful plaza and mission. Afterwards, continue south and arrive at Santispac Beach for the night. Dry Camp.
February 22: Arrive in Loreto, our home for three nights at the Rivera Del Mar RV campground. We'll have time to explore this beautiful town with its amazing mission, the first in all of California.
February 23: We will be driven to the San Javier Mission along with a docent guide who will describe the flora and fauna and the history of the area. After touring the mission, we will visit a goat farm, then be driven to a working rancho where we will enjoy an authentic Mexican lunch. This is a wonderful, interesting day.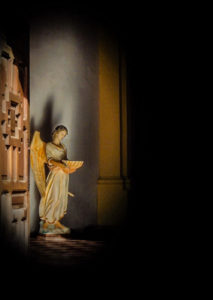 February 24: Free day in Loreto to shop and explore. In the evening, we will be driven to a local restaurant for a group meal, always fun.
February 25: We begin our trek north, arriving at Santispac Beach. Relaxing and enjoying the beauty of the area is in store. Dry camp.
February 26: Santispac Beach. Those who want, can head up to Mulege to tour the mission and explore the town of Mulege. That evening, we will enjoy a gruop meal at a wonderful, open-air beach front restaurant "Armandos". Always a favorite.
February 27: Bahia Asuncion, Campo Sirena. Bahia Asuncion is on the Pacific side of the peninsula, a small working fish village. The campground overlooks the Pacific Ocean and wonderful sunsets. Shore fishing is popular here. Dry camp.
February 28: We return to Guerrero Negro and Malarrimos.
February 29: We journey onto Bahia de Los Angeles, camping at Daggett's Campground. Dry camp.
March 1: Eco tour with White Bay Tours, exploring the offshore islands and looking for marine life. That evening, we will walk a short distance and enjoy a group meal with my friend, Ruth, who makes a killer margarita.
March 2: We head to San Felipe: Victor's RV. Victor's is within walking distance to the San Felipe Malecon for any last-minute shopping. Victor's also has a nice beachfront restaurant.
March 3: San Felipe, relaxing, shopping and just enjoying our last day of the adventure.
March 4: Head to the border and back to the USA. After being processed at US Customes, we'll gather together to say our good-byes. Always bitter-sweet.
The cost per rig is $2,115 for two people. Call the Vagabundos office (800) 47-4-BAJA (2252) to put down your deposit and reserve your spot today!
Travel in Baja is an adventure, it's always rewarding and keeps you young. Caravans are a great way to explore and experience new cultures. Our caravan leaders are experienced Baja travelers with years of knowledge, keeping you safe. Plus, they know where the best taco stands are!!!