"DON'T DRIVE AT NIGHT "
" DON'T CAMP ALONE"
Click Here For Current Peso Exchange Rate
***** NOTICE *****
PLEASE READ
Vagabundos is recommending you purchase a 100,000 CSL due to recent changes with the Mexico Labor Act. (CSL means the total amount to be paid to a third party for bodily injury and/or property damage.) Changes to the law - In the event of a death to a Mexican Citizen the Court could award the family 5,000 days of minimum salary, every state has its own minimum salary, if you purchase a 100,000 CSL policy the insurance company is offering a $2,000,000 PESOS 3rd party death benefits at no extra charge for a limited time. You will not receive this added coverage with any lower limits of coverage purchased. It is not a mandatory law however; it is strongly recommended that you purchase the $100,000csl limit. If you choose not to purchase the $100,000csl and you are found guilty of causing an accident where a death occurs to a Mexican Citizen the Mexican Government could detain you until the full settlement is reach. Any payment above the policy limits would be the insured's responsibility.
The driver's license policies will continue to be sold with the lower limits of coverage and will automatically receive the $2,000,000 MX peso death benefit until the $100,000csl policy is available in the system.
When purchasing a policy on a vehicle and towing a trailer, the trailer must be listed on the policy even for liability only. If you have multiple trailers you could be towing throughout the policy term state the trailer you will be towing the most. Driver's license policies at this point are exempt from this requirement. As long as you disclose on the policy that you have a towed unit, the insurance company will cover all towed units for liability only even if the second towed unit is not listed on the policy. (this excludes all motorized vehicles) If you need to add a towed unit to your policy, please send a copy of the registration with your renewal notice and the office will add it for you. If you are renewing online you can add a towed unit by marking yes to the question: Are you towing a travel trailer, 5th wheel, utility trailer, or boat and trailer?

Current Road Report
12/20/12 Current Postings on our Boards - Does anyone have information on the status of the toll road Tijuana to Ensenada. We are driving to Loreto Dec. 20th and are wondering if the hwy is open. If not, I am curious about the alternate route to hwy 1?
If you cross at Otay Mesa, go straight for about a half mile to Industrial Blvd. (I think it's the first light) and turn left. Then go about 7 miles until you see "Corridor 2000" and take that about 35 miles westward. It'll put you on the toll road south of Rosarito Beach, you'll have to drive about 6 miles south before you can get on the toll road, but you'll only have 1 toll booth left to pay at. If you have to get your FMM visas, cross in the extreme right hand lane and turn into the parking lot after the first building where the Immigration office is located. This is the FIRST RIGHT HAND TURN you can make after crossing the international border. Park there, get your visas, then cross over to the secondary inspection area for them to clear you, you don't have to turn right coming out of the parking area and go into customs, unless you have something to declare. Buena suerte
12/20/12 Current Postings on our Boards - PAY ATTENTION WHEN BUYING GAS.
Scams at Pemex Gas Stations - We have received a number of reports of scams run at various gasoline stations in the Los Cabos area. These reports usually increase around the holidays, and often revolve around the same themes; tampered pumps not giving full measure, attendents not resetting pumps to 0.00 or pretending to pump gas when they did not, attendents working in teams to distract you with one offering to wash your windows, short changing, claiming you gave a 20- or 50-peso note instead of a 200- or 500-peso note, etc.

Best advice is for you to order a specific amount of gasoline, such as $300 pesos, verify the pump has been reset to 0, pay using the exact amount in pesos you ordered, and don't lose sight of the money you paid. Contact the authorities at PROFECO, 5568 8722 in Mexico City, or 01 800 468 8722, www.profeco.gob.mx/english.htm, denunciasgasolina@profeco.gob.mx, whenever you have a complaint. Make a note of the station number, location, and the name of the attendent(s) if you can get it. - The Baja Western Onion,
BIEN SALUD,
JAMES H
11/14/12 - El Chaperall Border Crossing into Tijauna Mexico Video - http://www.youtube.com/watch?v=zKgKsfl1sn0&feature=plcp
10/31/12 - Road Reports - The following observations are from Members traveling from October 27 to now on the Baja Highway. Muchas Gracias to those who are sharing with other Members. It makes a big difference.
The Tecate crossing is good and quick with little hassle - took six minutes to cross. The toll road of Highway D2 was good and quick since Highway 3 is still under construction in parts. Cost at the toll booth was $132.00 pesos. There is a 4 mile section 20 miles north of Ensenada where it becomes one lane due to repaving. In Ensenada it appears the Navy has taken out the military base there that is used as a landmark for the left turn to Highway 1; and on the left there is a Pemex at that junction. At that turn go about three blocks to Highway 1. If that turn is missed, take a left-hand turn farther down the road after approximately 3 or 4 blocks to hook up with Highway 3 through Ensenada. Vagabundos magnetic signs placed on the driver and passenger doors expedited our stops at the military checkpoints with just a wave through after the signs were recognized.
The Bahia de Los Angeles road is fine except for a few spots to slow down where vados do not yet have bridges. The road from Bahia to San Fancisquito is shot and a quad is required to get to Las Animas. The road from Cocos Corner out to Highway 1 is passable but very bad.
The road from Ensenada to San Quintin is being widened. Work is being done 60 miles north of San Quintin and goes for 5 miles. Minor construction is also being done east of San Ignacio. Santispac camping is fine, but spur roads to little coves like Playa Perla and El Requeson are out.
On the road between Mulege and Loreto there are still parts with wash outs in vados that are not totally repaired. Use caution and slower speed. The Malecon in Loreto is washed out. South of Loreto there are some rough spots to Insurgentes. Between Constitution and Santa Rita there is more livestock than usual on the road.
The desert is very green and beautiful with all the rain, but the insects are ravenous, so be prepared.
Thanks to Chris and Robin Haynes, Diane Perry, and Rich and Val Knittel.
10/31/12 - A reminder that starting at 6 a.m. Thursday, November 1, Mexico's federal government plans to route all San Ysidro southbound traffic into Tijuana through the newly constructed El Chaparral facility located west of the current lanes at Puerta Mexico. http://www.utsandiego.com/news/2012/oct/30/mexicos-el-chaparral-crossing-opens-thursday/ We would appreciate feedback from anybody crossing through the new route - email info@vagabundos.com or post it on our Facebook page http://www.facebook.com/VagabundosdelMar
Fuel Rates
Magna (87 octane) 11.1 pesos/liter, $3.30/gal; Premium (93 octane) 11.7, $3.47; diesel 11.5, $3.41 scarce at Guerrero Negro. At Catavina Magna Sin and L.A. Bay Junction Magna & diesel from barrels - 5 gal minimum. 2 new gas stations at L.A. Bay.
Travel Information
2/8/13 -The Punta Chivato Launch Ramp is chain linked and closed. There is no water and the road going in is bad. Launch ramp in San Lucas cove next best option. Larry. Click on the link to see pictures. http://www.facebook.com/VagabundosdelMar?ref=hl#!/media/set/?set=a.10152136202519386.485641.255622884385&type=1
9/27/12 - There has been a notice posted in Lynn Hamman's Loreto yahoo group about counterfeit money being circulated in Loreto in $200 and $500 peso bills as of September 26, 2012.
9/7/12 - Now here is an app we can all use! New service helps travelers brave long wait times at U.S. border crossings. http://ucsdnews.ucsd.edu/pressrelease/new_service_helps_travelers_brave_long_wait_times_at_u.s._border_crossings#.UD0JatZlSF4
6/21/12 - The March issue of Boating Magazine has a great article by Jim Hendricks and beautiful photos by John Linn of a Vagabundos caravan trailer boat cruise lead by Joe McGinnis. They had a terrific time with the group and determined for themselves that Baja is still indeed safe as they experienced the 'Vagabundo lifestyle'. Jim says in addition,". . . the most treasured resource of Baja became clear. It is not the fish, nor scenic beauty. It is the Mexican people. Contrary to news reports, these people welcomed us in and treated us with kindness and generosity. We never felt safer. Viva Baja." Check out the whole story at http://www.boatingmag.com/skills/trailering/trailer-boating-baja.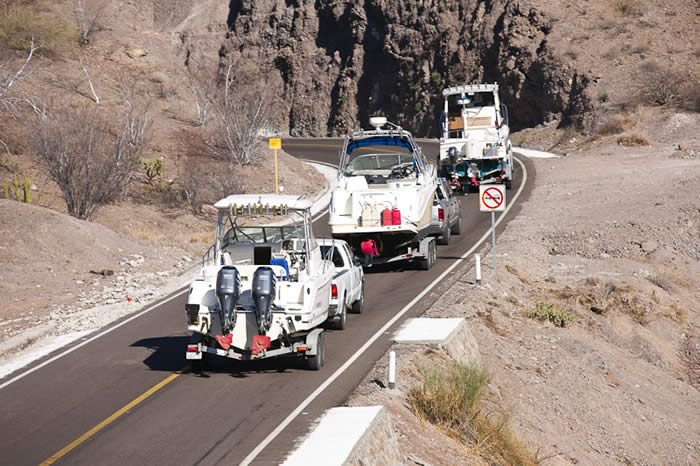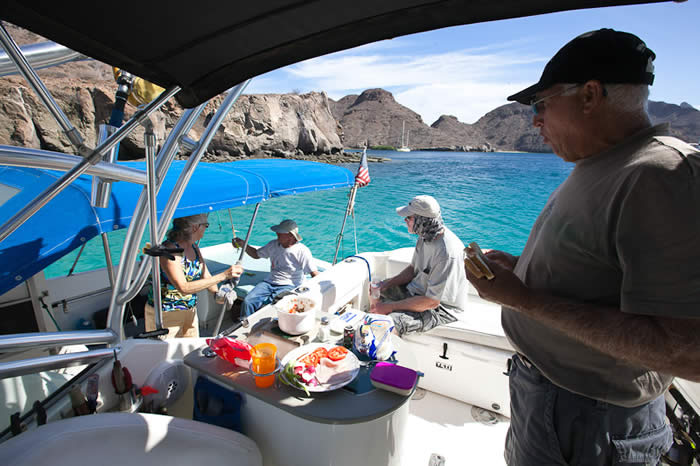 Temporary Import Permits:
Vehicle Permits
The new fee is $44 plus tax. People going to Baja north & south and part of Sonora do not need to have one.
Everyone is required to leave a deposit (if you pay by cash or credit card); the deposit is based on the vehicle year. If anyone fails to return their vehicle prior to the expiration date the deposit will be kept.
Banjercito will run a check on the vehicle before issuing the permit, if there is any theft report on the vehicle or if it is restricted or prohibited to operate in the US or Canada, the vehicle cannot be temporarily imported.
The temporary permit time is based on the person's immigration status i.e. 180 days for tourist.
People traveling in the eastern part of Sonora need to have a "Sonora Only Permit"
Boat Permits
The Vag office now is set up to process Temporary Boat Importation Permits (TIP). This is required if you are towing a boat of more than 15 feet. Marinas in Mexico have an obligation by law to keep a copy of a tourist visa, vessel TIP, insurance and certificate of documentation on file. The TIP is for recreational or sport boats for all people legally residing outside of Mexico no matter what your immigration status. Please find our application at http://www.vagabundos.com/PDF%20Forms/Temporary%20Import%20Permit%20Application.pdf. A minimum of two weeks is needed for processing.

Travel Buddies Calendar
In keeping with today's internet reliance and the Vagabundos code to travel with a buddy, our Travel Buddies Calendar is now online - a great tool to find a buddy to caravan with. Members traveling to Mexico can post trips, find other members who are traveling, find Vag sponsored events, and use the interactive map. Regardless of your driving experience the easy-to-use calendar will allow you to find a buddy. For more information and to login click on http://www.vagabundos.com/TBC.html
Mexican Insurance Online - Visitors to the Vagabundos site can obtain online quotes (quick and detailed) for Mexican Insurance Policy information, as well as securely purchase and download any quoted policy they like. Vag Members can also utilize the same system to securely access their membership account online, and to purchase new policies or renew previous ones. Current Members can obtain a username and password from the system by clicking on the Member Login link on the homepage.
Check out the Baja Forums for the latest postings and info concerning road conditions.

View the Vagabundos del Mar Press Release on PRWeb concerning travel in Mexico.
*** Current Baja Hot Topics ***
2/5/13 - Giving back in Baja and mainland Mexico -http://www.bdoutdoors.com/forums/baja-bytes-gary-graham/479314-second-swordy-two-weeks-while-stripers-settle-golden-gate.html#post3022013
12/21/12- 427-POUND YELLOWFIN NAMED WORLD RECORD- http://www.bdoutdoors.com/story/427-pound-yellowfin-tuna-world-record/
12/20/12 - Silent Samaritans - "Let Your Adventure Outlive You!" http://www.wonews.com/Blog.aspx?id=2096&AuthorID=96087&t=Silent+Samaritans
Kokanee Tournament 2012 http://www.vagabundos.com/kokanee_tournament.htm
Day One Results
Day Two Results
Overall
1. Kevin Kirkman

1. Gary Kirkman
2. Lori Gonzales

1. Ken Gonzales
2. Larry Wilkinson
Padre Lucas Yellowtail Fishing Tournament IV 2012 http://www.vagabundos.com/yellowtail.html
Day One Results
Day Two Results
Day Three Results

Yellowtail
1. Rick Taylor (39.32)
2. Jim Burkett (22.66)
3. Blanca Sleek (21.08)


Gran Copa Standings
Rick Taylor (49.36)
JB Hardy (40.50)
Jim Burkett (33.96)


Yellowtail
1. Chris Cossey (26.88)
2. JB Hardy (25.82)
3. John Cossey (25.34)


Gran Copa Standings
JB Hardy (53.42)
Rick Taylor (49.36)
Chris Cossey (49.36)


Yellowtail
1. Rick Taylor (39.50)
2. Steve Zigler (35.02)
3. John Cossey (30.30)


Final Gran Copa Standings
1. JB Hardy (53.42)
2. Rick Taylor (49.54)
3. Chris Cossey (49.36)
Loreto Dorado Fishing Tournament 2012http://www.vagabundos.com/Loreto_Tournament.html
Day One Results
Day Two Results
Grand Prize
1. James Hansen (40.00)
2. Ron (30.02)
3. Edward Cardenas (21.04)
1. Bob Neal (37.02)
2. Jim Burkett (35.08)
3. David Mantooth (28.14)
Ron Perez (44.02)
Punta Arena: A Baja Battleground http://www.bdoutdoors.com/article/baja-bytes-punta-arena/
Prepaid FMM's and Fishing Licenses
FMM's are for Vag Members only, and are on a first come, first served basis. You can obtain these by filling out an application and sending it in along with a copy of your passport to our office. Contact us at HQVDM for more information on obtaining
these documents call (800) 474-2252.
PREPAID FMM'S (VISITOR CARDS)
These replace the former FMT's. Vagabundos members can obtain an FMM from our office, saving you from having to wait in line at a bank. There will be short times the office will not have them available because the process requires that we submit a report
and account for each and every numbered FMM for approval before Mexican Immigration will release another batch. Please allow two to three weeks for processing.
The price is $26 plus a $6 handling fee.
FMM's AT TECATE: It is easier to park on the U.S. side, walk across to
Immigration in the building on your right.
CURRENT RATES (subject to change without notice)
| | | |
| --- | --- | --- |
| Weekly* | | $22.40* |
| Monthly* | | $33.60* |
| Yearly | | $44.80* |
*Plus a handling fee
* Must specify date on weekly and monthly licenses. Annual fishing licenses must be dated within the month of issue.