SAN QUINTIN TOURNAMENT
August 31-September 2, 2018
Held over Labor Day weekend, this is another great Vagabundos tournament. Fishing last year was spectacular and we expect the same for this year. The location is Don Eddie's Landing, the must stop Baja location. The road into Don Eddie's and San Quintin Bay is now paved. Many have been waiting for this a long time. Vagabundos discounts are given, the food is great and the staff is always very hospitable - they go the extra mile. Freddie "Boom Boom" Washington

Make your reservations now by calling the Vagabundos office at 800-474-2252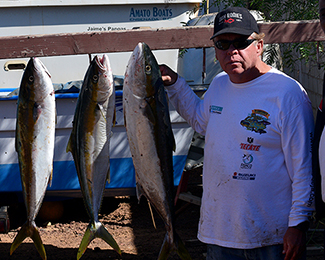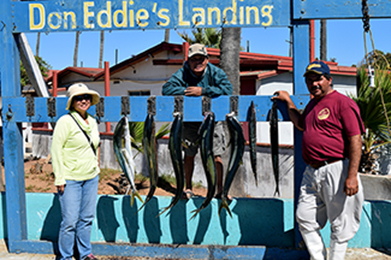 Friday
Signups open 6pm - 9pm at San Quintin Don Eddie's Landing or signup today through the Vagabundos office 800-474-2252

Fishing Day 1 Saturday
Fishing Tournament starts 6am - 4pm you must be back at the marina by 4pm. Weigh-in open from 3pm - 5pm. (One fish per person) 6pm Chicken Dinner at San Quintin Don Eddie's Landing (Diner is included in your registration fee)

Fishing Day 2 Sunday
Fishing Tournament starts 6am - 4pm you must be back at the marina by 4pm. Weigh-in open from 3pm - 5pm. (One fish per person) 6pm Steak Dinner and Award Ceremony at San Quintin Don Eddie's Landing (Diner is included in your registration fee)

Awards will be distributed accordingly

Day 1
1st Place
2nd Place
3rd Place
Day 2
1st Place
2nd Place
3rd Place
Over all biggest fish of the tournament
FISHING TOURNAMENT RULES
1. All entrants must complete a submission form and pay the entry fee by 6pm - 9pm the day prior to the tournament. Entry fee for each angler $50.00.
2. All fishermen on each boat must be entrants in the tournament.
3. One entry fish per entrant.
3. Fishing on both days may begin at 6am and be back at the dock by 4pm. Weigh-in open from 3pm - 5pm.
4. No sharks or rays allowed; heaviest fish wins.
5. All entry fish must be banded with an ID band that are to be applied as the fish are caught, connecting the fish to the angler who caught it.
6. Boat captains may assist with the catch by the entrant, but may not enter personally.
7. Each entrant must have a Mexican fishing license.
8. Decision of the weigh-master is final.
9. Prizes to be awarded at the awards banquet Sunday evening at 7pm.
10. Objections: To be directed privately to the Tournament Director.