Bahamas Cruise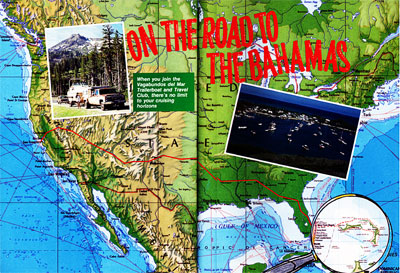 by Fred & Gloria Jones
This Article originally appeared in Trailer Boats magazine.
While idling away a summer afternoon in Cabo San Lucas, Mexico, with fellow members of the Club Vagabundos del Mar, the conversation turned to enchanting waters we had visions of cruising. The fact that we were lounging in the shade of our cruiser Vagabond may have had a bearing on the fantasy that quickly developed.

It seemed logical to us in our relaxed condition that the same six days we consider comfortable for towing our 10,000-pound craft from home in northern California to Cabo could just as well get us to West Palm Beach, Florida. From there, it is only a measly 55 miles across the Gulf Stream to the tropical splendor of Bahamian waters. We had been to the Bahamas years ago for a week on a diveboat and had talked many times of doing it on our own. Now we had a boat with the range and comfort for such a cruise.

We also had a receptive audience. Tony and Nancy Schuck had lived in Florida recently, had left their cruiser, Gypsea there and planned to get back to it soon. After more talk and consideration, a chorus of "Let's do it!" resounded through the RV park and we began to plan ...and plan ...and plan.

We put a notice in the Club Vagabundos del Mar newsletter, Chubasco, seeking buddy boats. Of the 17 who responded, seven actually made the cruise with us.

We settled on a relaxed, one-month tour of the Abacos, the most highly regarded cruising grounds in these islands. A protected sea between outer cays and inner islands offers everything a cruiser could want-posh resorts, isolated villages, secluded anchorages, access to world-class diving and game fishing, gorgeous waters and a swimsuit climate.

We bought charts ("The Bahamas Chart Kit" gave the best overview), cruise guides (we used Cruising Guide to the Abacos and the Northern Bahamas by Julius M. Wilensky continually and Yachtsman's Guide to the Bahamas nearly as much), quarantine flags, Bahamian flags and non-perishable foods (meals by Top Shelf were great, lightweight, heat and serve). We fixed equipment, calculated fuel stops and made more plans.

For last-minute repairs, Harbor Marine in West Sacramento gave great service on the West Coast and Spencer Boat Works in West Palm Beach did the same on the East Coast, as well as giving good advice by phone beforehand and promising to have parts flown to the Bahamas if the need arose.

Navigation was a critical concern. It's easy to miss a low-lying cay visible no more than six miles off, and we were to be out of sight of land several times-particularly crossing the Gulf Stream, which takes you north at several knots and can become treacherously rough. We borrowed a Loran from a friend and a backup ADF (automatic direction finder) from another. The guidebooks make it clear that the Bahamas are in a Loran fringe area, and accuracy deteriorates once away from Florida. But we found Loran to be fully reliable for navigation purposes-it always brought us in sight of our destination, though always two or three miles off.

Our first Bahamian landfall was West End on Grand Bahama Isand. The completely protected manna includes the Customs and Immigration office, making those clearances a snap. Once done, down came the yellow quarantine flag and up went the Bahamian visitor flag giving us all a feeling of elation-we had arrived!

Next was Walker's Cay, a posh resort offering everything we wanted-great scuba diving, worldclass, big-game fishing and all the amenities ...priced accordingly. We sampled it all, then cruised off to Grand Cay to walk the town and have cracked conch at Rosie's Place. Sliced, pounded, battered and fried, it is better than abalone at a fraction of the price, and is more plentiful. We couldn't get enough of it.

Dodging coral heads and shallows, we moved on to a delightful narrow anchorage in Double Breasted Cays, with tidal bores roaring between tiny cays right next to us. This was a perfect spot to explore in dinghies. A young lady out snorkeling spotted a nurse shark snoozing on the bottom and shot straight out of the water onto the nearest swim platform, gasping and pointing. The turmoil between wanting to stay in each exciting spot and the challenge of moving onward to others was by now well established.

Move on we did, to Great Sale Cay, a great, uninhabited anchorage that held little for us. On south lay Foxtown on Little Abaco Island, with the lure of fuel. We arrived at low tide and eased up to the fuel dock in two feet of water, then anchored just offshore. The next morning, in the midst of a squall, we heard a loud whooshing and spotted a small waterspout weaving between our flotilla-a watery counterpart to the dust devils we are used to in the West.

Enticing us on was vaunted Green Turtle Cay. So, there we went to have a great time at the laid-back Green Turtle Club and Marina. Nearby New Plymouth, a bastion of English Loyalists descended from those who left the United States after the American Revolution, proved to be exceptionally picturesque.

Treasure Cay caught our interest, so we went to dock among the sportfishers with tuna towers reaching to dizzying heights. This resort has it all, including a $25 buffet offering all the lobster you can eat, plus a dessert table to boggle the mind. From there we dove and fished and frolicked in the sun.

Great Guana Cay beckoned, with a cozy anchorage that was dinghy distance from town, then Man-O'-War Cay with another snug harbor and interesting village. It was only a short hop to Marsh Harbor, the cruising center of the Abacos. This sizable town had everything we needed-coin laundry, auto-parts stores, supermarkets and all the rest. We operated out of Marsh Harbor for a week, going off to Little Harbour to see the art studios, out in the ocean for dorado and kingfish, over to Hopetown to wander around and climb the lighthouse, until that fateful day came-time to head back.

We allowed ample time for a leisurely return, making a few new stops en route, including Carter's Cay and the Great Lucayan Waterway
across Grand Bahama Island (a bulkhead epitaph to failed development dreams). It took a couple of days to do Freeport (essentially a company town on land provided by the government), then we touched back at West End for one last cracked conch dinner, arriving back in West Palm Beach the last day of May.

Trailering Cross-Country

Trailering across the country for our month of fun and sun in the Bahamas was an interesting experience. Everyone traveled independently, meeting in John Prince Memorial Park
in Lake Worth, Florida. We had asked all the Bahama-bound to weigh their rigs, keep track of fuel consumption and chronicle the inevitable problems on the road.

Boats ranged from 24 to 30 feet long and 8 to 11 feet wide. Boats and trailers went from 7000 to 15,000 pounds and totals with tow vehicles from 11,000 to 28,400 pounds. Except for one motorhome, tow vehicles were 3/4- or 1-ton trucks with big engines. Two were diesels, one of whicha new 1990 Dodge with a Cummins engine-delivered a whopping 13 mpg. The lowest mileage was from our Baja-tired Chevrolet crew-cab 4 x 4 dooley with 4.8 mpg.

We learned the hard way that tires with sun-cracked rubber were bound to fail, regardless of the amount of tread. Cracking comes with drying of the rubber, as does separation from the cord. The stress we were applying created bubbles, then the rubber peeled off, leaving us rolling on cord only. After one of these and close inspection of the rest, we chased down a new set for the trailer.

Nearly all trailering problems were things to be expected with trucks and trailers that had seen considerable use-even the blown engine we had to replace on the way home. It was inconvenient, but not unexpected after 125,000 hard miles from Baja California, Mexico, to Alaska.

Moving wide loads across the continent required patience and forethought. It was necessary to write or call ahead to obtain each state's overwide permit, and travel was restricted to weekday daylight hours. Conflicting instructions in Louisiana resulted in a fine for one member of our group, and Florida officials initially refused to allow them in, feeling their tow vehicle was too small for the load. The fact that the truck had made it all the way from California finally persuaded the officials otherwise.

Was trailering from California to Florida equivalent to going to Cabo San Lucas as we originally hypothesized? It was pretty close. The interstates, of course, with smooth surfaces and room to pull off in case of trouble, were a welcome change from narrow, shoulder-less Baja Highway 1. While the extra 1400 or so miles can be squeezed into the same number of days, only one of our group did so.

Is trailering from coast to coast sensible? We certainly think so. The excitement of extending cruising waters to such a degree is heady stuff. Exploring new horizons, far and near, is the greatest advantage of trailerboating. We all become somewhat jaded going to the same places all the time. It's invigorating to realize that the entire country is accessible to adventurous trailerboaters. Why shouldn't Floridians experience the delightful cruising in the Pacific Northwest, just as we savored the challenge of the Bahamas?

The only caution we offer is to avoid being rushed. Careful planning and preparation save time and grief later on. Do your best to replace worn parts that will aggravate you when they fail. Make a firm contract with one or more companions to be "buddy boats" for each other. This requires a commitment to stick together, to help with mechanical and other problems and, ultimately, to be prepared and willing to be towboats. It's much more fun to explore together and share experiences, anyway. Take plenty of time both on the highway and the water-don't push it.

Other than these exercises of prudence, let yourself go. The beauty of trailerboating is the great flexibility it affords. The U.S., plus Canada and Mexico, is a great big, wonderful playground for trailerboaters.